Access to sites and buildings can be by :
Automatic gates - barriers - shutters - posts - ramps
Gates The processes of automating new and existing gates is relatively straightforward. The main factors to be considered are the size/weight, and the proposed usage of the gates. If the gates have bearing hinges (hinges that are mounted on ball bearings which make the gate run smoothly and require less force to open and close) they will require a smaller ram to open/close.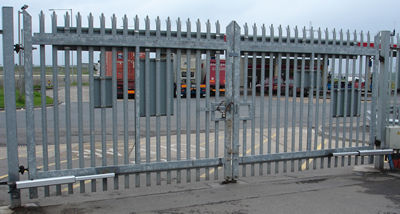 New gates can have the required bracketry fixed to the gates prior to the gate finish being applied, this makes the gates look better than a gate that has been retrofitted with brackets.

Supply and controller cables can be installed on the surface or below ground, the latter is preferred as it improves the security against vandals, it also improves the aesthetics and extends the life of the system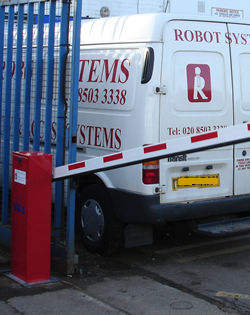 Barriers
are normally a self
contained unit, mounted on a
substantial base. Factors to be
considered are similar to automated
gates, the length of arm
(normally calculated to span the roadway)
and the proposed usage, it's no good
having a barrier that's not up for
the demands of a busy site with
lots of ups and downs.
Roller Shutters
are one of the best ways to secure a big opening allowing lorries and trucks to enter all sorts of storage and loading areas, shutters also increase security by adding an additional layer for potential thieves to get round.
The design of an automated roller shutter follows the rules of the automated gates and barriers, the required size and weight and the proposed usage.
Posts and ramps
are a relatively recent addition to the arm of the security company, ideal for concealed protection as they disappear below ground and only rise when required.
Installation of a post or ramp can be a messy job, normally requiring major ground works so planning is key, control and cable ways must be planned in advance and the proposed usage given adequate consideration.
Many sites now have the option of remotely controlling barriers, rams and gates.