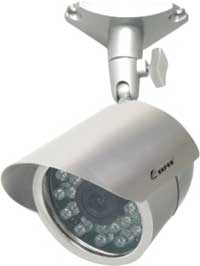 The majority of monitoring the movement and access of personnel/goods is carried out by way of close circuit television (CCTV). Cameras now come in many different types, all designed to achieve the optimum picture quality.
External cameras generally fall into two catagories: fixed and movable. Fixed cameras (designed to monitor a fixed area) and the movable pan-tilt and zoom (PTZ) camera designed to be moved by an operator.

The fixed camera would be placed in a sutable location to view and achieve the monitoring of movement in that specific area. The downside of the fixed camera is its inflexibility, as it is only capable of viewing what it is pointing at.
The PTZ gives the facility and flexibility to view different areas at diffent levels of detail. With new controllers PTZ cameras can be programmed to pan tilt and zoom automatically on a time sequence or in the event of an incident, e.g. a door opening.
Generally camera systems have the additional facility of recording - consideration of the options here is important. The system of storing images on tape is rapidly becoming extinct, with the digtal image being stored on hard drives dramatically improving the replay quality of and storage life of the recorded images.